Lightener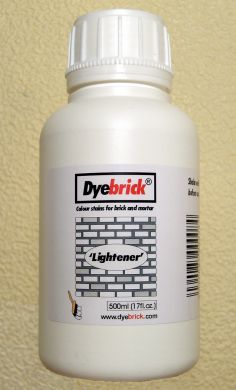 GO TO SHOP
Dyebrick Lightener is primarily for producing pastel shades to the Dyebrick standard range of colours, enabling the user to create an even wider variety of colours. This product is a concentrated liquid white pigment and is supplied in a 500ml pot, with a test application brush and full mixing instructions.
Using the Lightener with Dyebrick Charcoal will produce a grey/blue colour that can suit many slate coloured bricks. Lightener can be added to Yellow Stock to produce pale yellows and buffs. When Lightener is added to Khaki, this can produce a good natural mortar colour. Dyebrick Lightener is compatible with all the Dyebrick colour range, and may also be used on its own to produce special effects.
Dyebrick when added to browns can produce pinkish - purple tones due to the reaction of the white with the red/black elements within those colours. So please test prior to full application.
Lightener can take the 'edge' off some colours to produce a more natural softening effect.
The Lightener should be added a little at a time, to a ready-made Dyebrick solution, and then tested. Keep adding and testing until the required match is found. Always note the quantity added just in case you require more in the future.
Dyebrick 'Lightener' is also available as a 100ml sample pot. Sample pots are specially prepared without a 'Fixing Agent' so any trial areas can be easily removed using standard brick cleaning techniques.
'LIGHTENING EFFECTS'
The following example provides a useful guide on how Dyebrick Lightener can transform the standard Dyebrick colour range.
'Old English Red' has been used in this case, but all of the Dyebrick range will produce similar shifts of paleness when adding this product in the same proportions.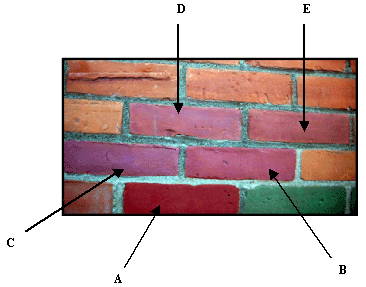 A. Shows 'Old English Red' applied at standard dilution rate to orange brick.
B. After adding 150mls of 'Lightener' to 1 litre of 'Old English Red' at standard dilution.
C. After adding all the 'Lightener' (300mls) to the 'Old English Red'.
D. Then, after adding 750mls water, this allows more surface detail to show through.
E. Result after adding another 750mls water, this produces a pink wash effect.
The 'Lightener' produces effective pale pastel colours of all the Dyebrick range of colours, and by adding more water you can increase the amount of original surface detail and colour you wish to show through.
Dyebrick Lightener can also be used for producing 'lime-rich' joints: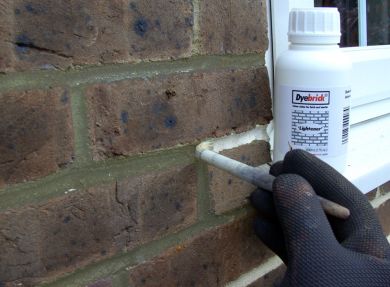 Privacy Policy
|
Returns / Refunds