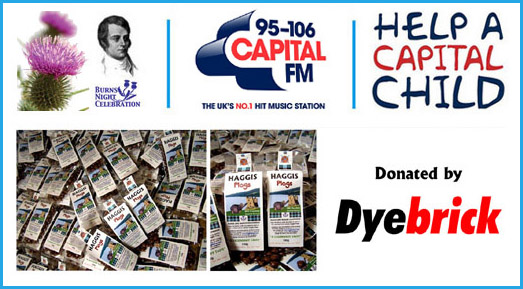 Dyebrick are proud to be donating Haggis Droppings again this year, for the 'Marriott Burns Night Ball', held in London's fashionable Mayfair, on the 26th January.
The event is run by Capital FM, the UK's No.1 Hit Music Station, in aid of their charity 'Help a Capital Child'.
It is a star-studded event, hosted by Capital FM presenters. High profile guests from across the city will be treated to an extravaganza of Scottish entertainment in the heart of London at the stunning 5* Marriott Hotel, in Grosvenor Square.

LBC's very own James Whale raised over £70k for Help a Capital Child as he hosted The Marriott Burns Night Celebration on Friday 21st January.
This year's celebration was again held at the stunning 5* Marriott Grosvenor Square in Mayfair, London.
Dyebrick were proud to be involved in this year's event and donated over £2000 worth of   'Haggis Droppings'  for the evening.