This year's Dyebrick tour has now been booked and confirmed.
After the success of our Gulf State tour in 2005, we are now pleased to announce a completely different route. On this journey we will be passing through the following States:
California
Nevada
Utah
Colorado
Wyoming
Nebraska
Iowa

Illinois
Ontario, Canada
New York
Massachusetts
Rhode Island
Conneticut
New York City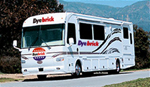 We will be stopping off at numerous customer locations. If you're interested in a visit from the Dyebrick team to take a look at your project, then please email us using the regular Contact Us form. There is only a limited amount of time we can stop off at locations, so book early to avoid disappointment!
We will be keeping the blog up to date with our progress through the USA, and may even have a live GPS tracker on the site.
The tour kicks off on Saturday, 1st December 2007 at 9.30am in Los Angeles, California.
Click the image below for an enlarged JPEG of the tour, or the link below it for an interactive Yahoo! Maps link.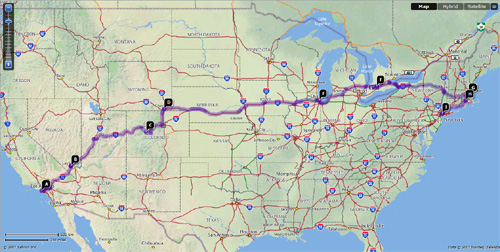 Click here for an interactive Yahoo! Maps version of our route.
4 months and counting!
Regards,
Dave Holland,
Dyebrick.