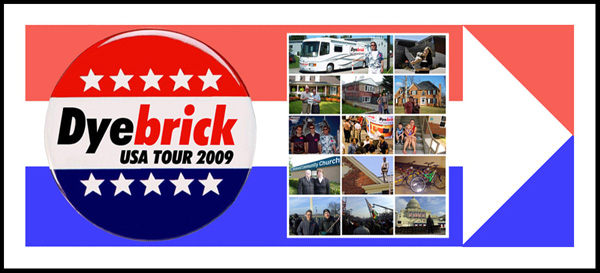 Dyebrick wishes to thank all the customers (and their neighbours!) for their kind hospitality on our East Coast 2009 tour.
We did do a lot less miles this trip than usual and managed 18 visits this time beating our last tour by four!
We experienced temperatues  ranging from 28oC to -10oC on our trip from Miami, Florida to Washington, D.C. We took three days off to visit Miami and travel down to Key West.
We picked our tour bus up in Orlando, ready to start work! ~Thanks again to 'Signs Unlimited' for their quality vinyl grapics!
At the end of our tour we took two further days off to witness the inauguration of the 44th President of the United States – Barack Obama. We cycled in from just outside Arlington and managed to get a good view on the National Mall.
We would like to extend a special thank you to Aaron Leach and the other volunteers at the Salvation Army who accepted our bicycles as donations for their Adult Rehabilitation Centre in Richmond, Virginia and to Major Mary Smith for pointing us in the right direction.
Please Note: We could only store a specific amount of samples for our trip, so for those of you who requested samples when we were in Delaware, please remember to quote your 'Preference Number' when placing your order.