This is an additional post to say thank you to our web hosts, Liquid Web for inviting us to a tour of their impressive Data Centre in Lansing, MI.
We also got to put faces to the names of some of their 24/7 support team.
It's quite a strange feeling looking at a PC that you usually communicate with remotely from over 3,000 miles away!
Click the photos below to enlarge. On the left is me, James (IT) and to the right is Seb (Production).
Oh, and we also got to take home a Liquid Web heroic support man!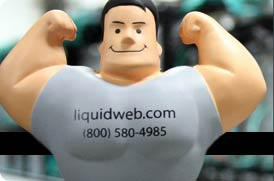 Thanks again Liquid Web!
James.